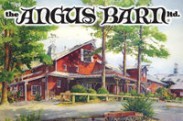 Hours:
Mon-Sat:
3:00 pm - 11:00 pm
/
Sun:
3:00 pm - 10:00 pm
/
About The Angus Barn
The Angus Barn is an award winning steakhouse in Raleigh, NC with one of the largest wine cellars in the country. The Angus Barn has been providing exceptional food including in house aged beef and fresh seafood since 1960.
Articles mentioning The Angus Barn
Sometimes, nothing can satisfy hunger quite like biting into a big, juicy steak. Fortunately, for Raleigh residents or those paying a visit to the Raleigh area, there are plenty of places to grab a cooked-to-perfection steak and so much more.
The Angus Barn Videos