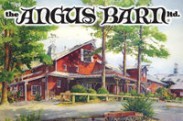 The Angus Barn
9401 Glenwood Ave
, Raleigh
, NC
27617
(919) 781-2444
The Angus Barn is an award winning steakhouse in Raleigh, NC with one of the largest wine cellars in the country. The Angus Barn has been providing exceptional food including in house aged beef and fresh seafood since 1960.
This business listing needs your help!
Have you been to The Angus Barn or know the owner?
Help contribute content about this business.
What are their hours of operation?
What makes this business unique and worth writing about.
What products or services do they sell?
Videos from The Angus Barn
Add Video