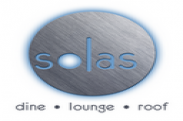 Hours:
Mon-Thu:
4:00 pm - 10:00 pm
/
Fri, Sat:
4:00 pm - 11:00 pm
/
Sun:
5:00 pm - 2:00 am
/
About Solas
Raleigh's Premiere Venue for Dining, Lounge and Rooftop Entertainment
Articles mentioning Solas
In recent years, Raleigh has received many accolades for being one of the best places to live in the country. With the increased attention has come a surge nightlife with great restaurants, bars and clubs perfect for drinks and dancing after a long day or weekend parties. Here's a rundown of the Raleigh nightlife scene by area.

While Raleigh doesn't always come first to mind when imagining some of the world's most romantic cities, it nevertheless has a bevy of incredibly romantic restaurants, perfect Valentine's Day or special occasions.

DJ Setlists for the Raleigh Area Aug 27th, 2012. Find out what the hottest DJ's in Raleigh are playing.
Solas Videos