Raleigh Times Bar is a Burger Joint business in Wilmington Street and one of 2 Burger Joint businesses in Wilmington Street.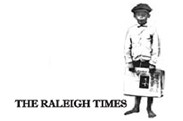 About Raleigh Times Bar
This business listing needs your help!
Have you been to Raleigh Times Bar or know the owner?
Help contribute content about this business.
What are their hours of operation?
What makes this business unique and worth writing about.
What products or services do they sell?
Articles Mentioning Raleigh Times Bar
Videos from Raleigh Times Bar