Capital Creations Gourmet Pizza
Enjoy the quality and convenience of a fine dining restaurant . . . in the comfort of your own home!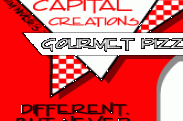 About Capital Creations Gourmet Pizza
Since February of 1992, we have been committed to providing you with the best pizza and salads in the Raleigh area. We offer the quality and variety of a fine dining restaurant with the convenience of Take-Out and Delivery service.

All of this at a price that's less expensive (and, in most cases - better!) than your favorite dine-in restaurant. We take pride in our menu selections; this is not your average pizza joint! Our creations are works of art and worth every penny.

Here's our promise: If we get something wrong, we will replace that item immediately, credit you for a future order or refund your money. We are aware that your satisfaction is what keeps us in business.

We offer carry-out and delivery service to a large part of the Raleigh area. This includes homes, businesses, hospitals, and hotels. We limit our delivery area to help insure timely orders. If you are outside of that area, we will be happy to deliver to you if you give us 24 hours notice. There may be a higher minimum order and/or delivery charges. Talk with our crew for more information.
Videos from Capital Creations Gourmet Pizza