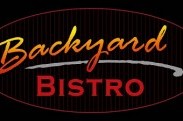 Edit
Backyard Bistro
1235 Hurricane Alley Way
, Raleigh
, NC
27607
|
Directions
Hours:
Mon-Thu, Sun:
11:00 am - 10:00 pm
/
Fri, Sat:
11:00 am - 11:00 pm
/
About Backyard Bistro
Backyard Bistro is a Arcade business in Raleigh
Backyard Bistro is a full-service restaurant and bar that is the perfect place to stop by for a social hour after work, on your way to the game, or with the family on a Sunday afternoon after browsing at the Flea Market.

For the Sports Enthusiast

Five big screen high-definition TVs plus a multitude of smaller screens throughout the restaurant allow fans to see any and all sporting events that are being broadcast. Individual speakers at each table let you control the volume of whatever event you are watching
Articles mentioning Backyard Bistro
For the sports fan, there are few events more exciting than the Super Bowl. Fortunately, football fans in Raleigh aren't relegated to lazily watching the game on their couches. Raleigh offers a variety of great sports bars that offer the perfect environment for cheering with other fans and making the most of Super Bowl Sunday,…

Chef Walter Royal of Angus Barn cooks the perfect steak.
Backyard Bistro Videos